Faisalabad
Omega Residencia Faisalabad Payment Plan, Features & Location Details
Fulfill your dream and get a plot in Omega Residencia Faisalabad at affordable price.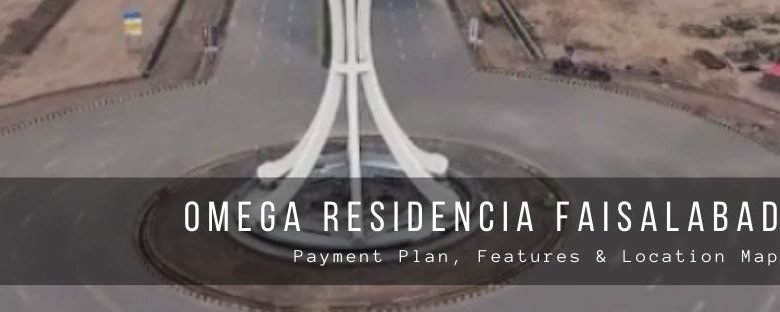 While selecting a plot, everyone considers an affordable price. Some prefer ideal location, reliability and facilities. Omega Residencia Faisalabad fulfils all the requirements. After a great success of Omega Residencia Lahore, the management proudly presents Omega Residencia Faisalabad. It's another mega housing project that offers residential and commercial plots.
Why Select Omega Residencia Faisalabad?
There are many factors for choosing Omega Residencia Faisalabad. The foremost reason is that it's approved by the Faisalabad Development Authority. Residential and commercial plots are available in affordable price. This housing project is located quite opposite to the City Housing Society at Sargodha Road, Faisalabad. All important locations like hospitals, educational institutions and shopping markets are at a few minutes' drive from here.
FDA-Approved
Currently, lots of housing schemes are involved in fake plot registration. That's why people are afraid of investing their money in plots. Omega Residencia Faisalabad is approved by Faisalabad Development Authority.
No Power Failure
This society is indeed among a few modern housing societies of Faisalabad where residents don't face power failure. Standby generators ensure continuous power supply for residents and there is no concept of load-shedding here.
Furthermore, the underground electricity supply system makes the environment clean and cluttering-free.
Pure & Clean Water
The society has a mega plant to purify water. Every resident gets pure and clean water at their home for drinking/household chores.
Modern Sewerage System
In the rainy days, the sewerage system fails to sewer rainwater in most of the areas of the city. As a result, the local people face problems in moving from here to there. Omega Residencia is more concerned about the sewerage system to keep the locality neat and clean. The underground ultra-large drain pipes work quickly to drain water.
Parks & Green Environment
The society is dotted with multiple green parks with all facilities for residents. Every block has a lush-green park beside a central bigger park. All of them contain jogging, cycling and walking tracks along with play areas for children. You can enjoy the serenity of nature while sitting in the park. Green plantation on both sides of the roads makes the scenery more attractive.
Grand Jamia Mosque
The grandeur Jamia mosque is large enough to cover thousands of people on religious gatherings like Juma and Eid prayers, etc. The structure of the Jamia Mosque reminds you of contemporary Arabic & Turkish architecture.
Modern Hospital
In an hour of emergency, you aren't away from Omega hospital that has all modern equipment. The hospital contains highly-skilled doctors and medical staff. The hospital serves you 24/7.
Modern Schools
Education is the main priority of residents while living here. Society management is more concerned with it. Omega Residencia has multiple international schools to provide you with the best education to your children.
Security System
It's a walled and gated community where no unconcerned person can enter. The presence of well-trained and active security guards ensure the safety of residents. The society contains several CCTV cameras give you a secure life.
Commercial Area
A big commercial area consists of grocery shops, retailers and shopping markets. A panoramic shopping mall is also located here. You can buy all the day-to-day stuff from here.
Wide & Well-built Roads
Wide roads ensure smooth and risk-free driving. Greenery on both sides of roads presents a more scenic view.
Community Hall
For your family events like weddings and engagements, the society has a big community hall. Besides, it has a modern cinema.
Omega Residencia Faisalabad Payment Plan
Omega Residencia Faisalabad brings commercial and residential plots in different sizes. Check the latest prices and other details below.
Updated on 14-Dec-2019
Updated on 14-Dec-2019
Omega Residencia Faisalabad Video
Omega Residencia Faisalabad Location Map